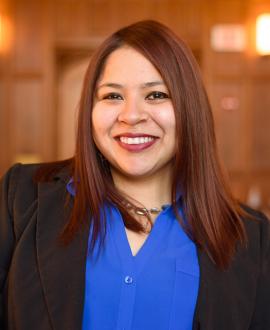 Eileen Galvez
 Director of La Casa Cultural (Pronouns: She/Her/Hers)
Eileen Galvez is an Assistant Dean at Yale College and Director of Yale's La Casa Cultural: The Latino Cultural Center. A native of Los Angeles, Eileen is a first-generation college graduate and second-generation immigrant. Her passions lie in social justice and the impact that an education can have on individuals and community groups. These values led her to earn her B.A. in Political Science and M.Ed. in Counseling & Guidance from Texas State University. Eileen has worked in diversity initiatives within higher education since 2009. Additionally, Eileen stays involved with NASPA-Student Affairs Administrators in Higher Education and has served as the Diversity Initiatives Coordinator for the Midwest region for the National Association of Campus Activities. She has presented at regional and national conferences on the experiences of Black and Latinx college students.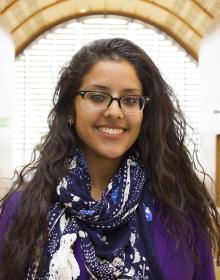 Assistant Director, MESc '14 (Pronouns: She/Her/Hers)
Maclovia Quintana is a native of northern New Mexico. She is an alumna of Yale College, with an undergraduate degree in Environmental Studies, and a graduate of the Yale School of Forestry and Environmental Studies, with a master's degree in Environmental Science. Her academic research has focused on small-scale agriculture and the reproduction of culture in northern New Mexico. Most recently, Ms. Quintana served as the inaugural Diversity and Sustainability Fellow for the Yale School of Forestry & Environmental Studies. In that role, she co-chaired the EQUID (Equity, Inclusion, and Diversity) Committee for the school, whose mission focuses on creating an atmosphere of inclusion and cultural competency, and where diverse ideas, perspectives and identities are respected.
Hayden Rodarte
Graduate Assistant, J.D. '19 (Pronouns: He/Him/His)
Hayden Rodarte is a native of California. He graduated from Stanford University with bachelor's degrees ('13) in International Relations and Classical Latin, and a master's degree ('14) in Latin American Studies (Political Economy). His academic research focused on sociolinguistics and the connection between human rights and international trade in the Andean region. Before coming to Yale Law School, Hayden worked as a legal assistant for Stanford Law School's International Human Rights Clinic, working with immigrant communities seeking legal representation, and with the Inter-American Commission on Human Rights. His current work centers on international public health and LGBTQ human rights issues in Latin American and California, as well as refugee and Spanish-speaking community direct services.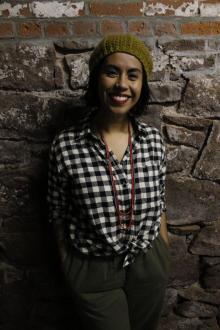 Eréndira Jiménez
Graudate Assitant, M.Dv.'19 (Pronouns: She/Her/Hers)
Eréndira Jiménez-Pike is a Graduate Assistant at La Casa Cultural. Born in Chiapas, Mexico and raised in San Diego, she comes to Yale University most recently from Louisville, KY. Currently a first year Master of Divinity student at Yale Divinity School, she has also completed a B.S. in Psychology and an M.A. in Spirituality, and is in the process for ordination to the priesthood in the Episcopal Church. Prior to starting at Yale, Eréndira was working with undergraduate students at the University of Louisville's Interfaith Center. She is interested in working with people, and young adults in particular, to develop practices that will enable sustained work in social justice.
Student Staffers
Jencey Paz
Student Coordinator

Silliman '17
Alexandria, VA

Major: Psychology, E&EB (Premed)

Fav. Film: "Gone Girl"

Pronouns: She/Her/Hers

Brenda Calderon
Student Coordinator

Saybrook '17
West Haven, CT

Major: MCDB, HSHM

Fav. Film: "Things We Lost in the Fire"

Pronouns: She/Her/Hers

Sergio Infante
Student Coordinator

Hopper '18
Bogota, Colombia
Houston, TX

Major: History 

Fav. Film: "Inglourious Basterds"

Pronouns: He/Him/His

Diana López
Student Coordinator

Ezra Stiles '19
Milwaukee, WI

Major: ERM, Psychology

Fav. Film: "Good Will Hunting"

Pronouns: She/Her/Hers

Student Coordinator

 

 

Bronx, NY

 

 

Fav. Film: "Tres metros sobre el cielo"

 

Pronouns: She/Her/Hers

Ivetty Estepan
Student Coordinator

Pierson '18
Hackensack, NJ

Major: ERM, African American Studies

Fav. Film: "The Proposal"

Pronouns: She/Her/Hers

Alejandra Trujillo
Student Coordinator

Saybrook '18
San Diego, CA

Major: Sociology

Fav. Film: "Y tu mamá también"

Pronouns: She/Her/Hers

Carlos Cohen
Student Coordinator

Davenport '19
Ventura, CA

Major: Global Affairs

Fav. Film: "Top Gun"

Pronouns: He/Him/His

Chris Rice
Student Coordinator

Jonathan Edwards '18
Houston, TX

Major: Political Science (Urban Studies Concentration, Education Studies Program)

Fav. Film: "Interstellar"

Pronouns: He/Him/His

Caro Vera
Freshperson Liaison

Morse '20
San Diego, CA

Major: Undecided

Fav. Film: "Before I Disappear"

Pronouns: They/Them/Theirs

Andrea Aspajo
Freshperson Liaison

Branford '20
Lima, Perú
San Diego, CA

Major: ERM, Global Affairs

Fav. Film: "Slumdog Millionaire"

Pronouns: She/Her/Hers

Alfredo Calvo
Freshperson Liaison

Pierson '20
Thornton, CO

Major: Undecided 

Fav. Film: "The Motorcycle Diaries"

Pronouns: He/Him/His

Victoria Quintanilla
Freshperson Liaison

Berkeley '20
San Juan, TX

Major: Political Science

Fav. Film: The "Harry Potter" Franchise

Pronouns: She/Her/Hers

Jesús Ayala Lara 
Student Coordinator

Davenport '19
Durham, NC

Major: Economics

Fav. Film: "Get Out"

Pronouns: He/Him/His