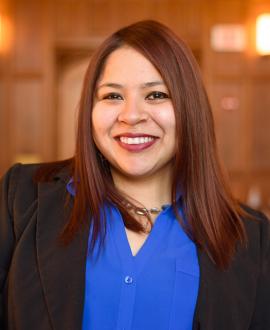 Eileen Galvez
 Director of La Casa Cultural (Pronouns: She/Her/Hers/Ella)
Eileen Galvez is an Assistant Dean at Yale College and Director of Yale's La Casa Cultural: The Latino Cultural Center. A native of Los Angeles, Eileen is a first-generation college graduate and second-generation immigrant. Her passions lie in social justice and the impact that an education can have on individuals and community groups. These values led her to earn her B.A. in Political Science and M.Ed. in Counseling & Guidance from Texas State University. Eileen has worked in diversity initiatives within higher education since 2009. Additionally, Eileen stays involved with NASPA-Student Affairs Administrators in Higher Education and has served as the Diversity Initiatives Coordinator for the Midwest region for the National Association of Campus Activities. She has presented at regional and national conferences on the experiences of Black and Latinx college students.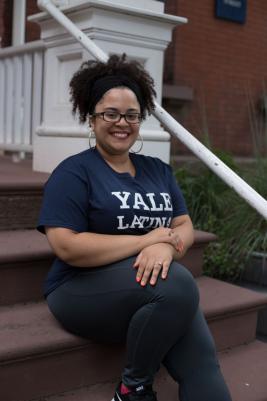 Assistant Director (Pronouns: She/Her/Hers/Ella)
Carolina comes to Yale after serving as a Residence Hall Director at the University of Connecticut (UConn). In her role, she oversaw two residential areas, supervised numerous undergraduate and graduate students, and participated in several department and university committees.
Carolina is a native of Puerto Rico via Boston and identifies as a first-generation college student. She received her bachelor's degree in Communication Disorders with a minor in Spanish from the University of Massachusetts Amherst and her master's degree in Higher Education Administration from the University of Pennsylvania.
Graduate Assistants 
Graduate Assistant (Pronouns: He/Him/His/El)

 

Héctor earned his B.A. from Brown University in 2016, where he completed a double-concentration in Ethnic Studies and Education Studies-Human Development. While at Brown, he worked at the Brown Center for Students of Color, the Dean of the College's Curricular Resource Center, and the Office of Residential Life. 

 

Here at Yale, Héctor is a 2nd year PhD student in the American Studies department. His research interests deal with the intersections between history of the California-Baja California borderlands, public education, and the racial geographies of San Diego county. 

 

Héctor is a transfronterizo Chicano first-generation college student who grew up in El Centro, CA; Mexicali, BC, MX; and El Cajon, CA. 

Graduate Assistant
Student Staffers
Nico Ayala Lara 
Co-Head Student Coordinator

Davenport '19
Durham, NC

Major: Economics

Fav. Film: "Get Out"

Pronouns: He/Him/His

Alondra Mejia
Co-Head Student Coordinator

Saybrook '19

The Bronx, NYC

 

Major: Ethnicity, Race and Migration 

 

Fav. Film: "Coco"/ "To All the Boys I've Loved Before"

 

Pronouns: she/her/hers/ella

Student Coordinator

 

Davenport '19

Ventura, CA

 

 

Fav. Film: "Top Gun"

 

Pronouns: He/Him/His

Diana López
Student Coordinator

Ezra Stiles '19
Milwaukee, WI

Major: ERM

Fav. Film: "Toy Story 3"

Pronouns: She/Her/Hers

Alejandra Trujillo
Student Coordinator

Saybrook '18
San Diego, CA

Major: Sociology

Fav. Film: "Y tu mamá también"

Pronouns: She/Her/Hers

Alfredo Calvo
Student Coordinator

Pierson '20
Thornton, CO

Major: Political Science

Fav. Film: "The Motorcycle Diaries"

Pronouns: He/Him/His

Alejandro Campillo
Student Coordinator

Jonathan Edwards '21
Los Angeles, CA

Major: East Asian Studies

Fav. Film: "Pitch Perfect"

Pronouns: They/Them/Theirs

Gianna Baez
Student Coordinator

Trumbull '21
New York City, NY

Major: English + ER&M

Fav. Song: Anything by Daniel Caesar

Pronouns: She/Her/Hers

Brian Reyes
Student Coordinator

 

Berkeley '21

East Harlem and the Bronx, NYC 

 

Major: History

 

Favorite song: Obsesión by Aventura 

 

Pronouns: He/Him/His

Sonja Malek
Student Coordinator

Davenport '22
Skokie, IL

Major: 

Fav. Film: 

Pronouns: 

 

Hyun Jin Lee (Jenny)
Student Coordinator

Saybrook '22
São Paulo, Brazil

Major: Undecided, Possibly EP&E or Global Affairs

Fav. Film/Song: Ratatouille / "Between the Bars" by Elliott Smith

Pronouns: She/Her/Hers

 

Eddy Tzintzun-Tapia
Student Coordinator

Saybrook '22
Asheboro, North Carolina 

Major: 

Fav. Film: 

Pronouns: 

Moises Cosme
Student Coordinator

Morse '22
Vineland, New Jersey

Major: ER&M

Fav. Song: "I Like That" by Janelle Monae 

Pronouns: He/Him/His

Saphia Suarez
Student Coordinator

Jonathan Edwards '21
Roxbury, Boston MA

Major: Theater Studies and Film & Media Studies

Fav. movie: Any Pedro Almodóvar movie

Pronouns: She/Her/Hers