La Casa's Latine Graduate Network
La Casa is proud of hosting its' own graduate and professional student initiative, called the Latine Graduate Network (LGN). The goal of the LGN is to bring together our diverse communities across Yale's graduate and professional schools in order to create a space where we can build community, build social and intellectual relationships, and build mutual support while representing the interests of Latine/x G&P students.
Sign-up for the Latine Graduate Network's mailing list to get updates on their events, community hours, and other offerings. Contact La Casa's Graduate Assistants (GAs) for more information on LGN or email lacasalgn@gmail.com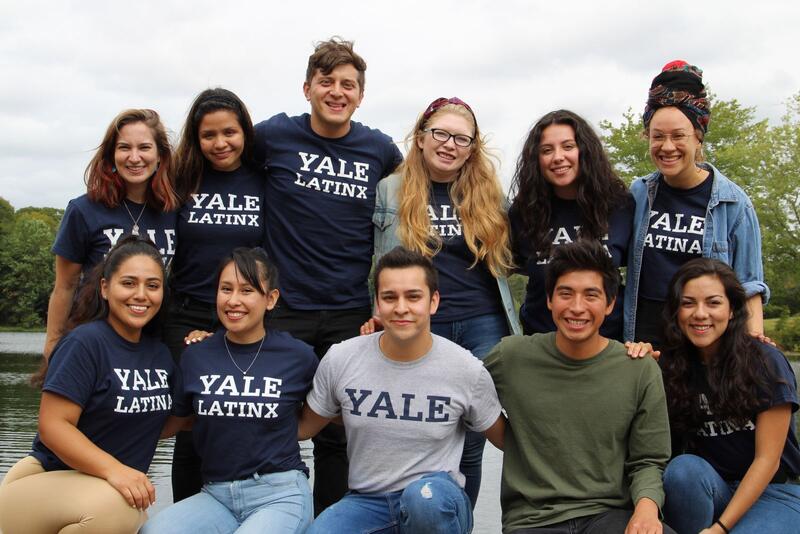 Additionally, La Casa and LGN work collaboratively not only to serve Latine students across Yale's G&P schools, but also to partner with each school's respective student groups. Check out the listings below to learn more about each school's community for Latine students and/or students of color.
Yale SACNAS Chapter: Society for the Advancement of Chicanos and Native Americans in Science
The Yale SACNAS chapter is an inclusive group dedicated to fostering the success of URM BIPOC groups, Chicanos/Hispanics, Native Americans, African Americans, women, gender minorities, and allies from college students to professionals, in attaining advanced degrees, careers, and positions of leadership in STEM.
Contact: ysacnas@gmail.com
Website: https://ysacnas.wixsite.com/ysacnas
Instagram: https://www.instagram.com/ysacnas/
Twitter: https://twitter.com/YSACNAS
Facebook: https://www.facebook.com/YSACNAS/
Yale Connect: https://yaleconnect.yale.edu/GSASORGSACNAS/club_signup 
---
The Yale School of Architecture
Yale Architecture Latinx Organization This group has just been organized and it is still in construction. More soon!
Contact:  latin.ysoa@gmail.com 
---
The David Geffen School of Drama at Yale
El Colectivo Founded in 2015, El Colectivo is a collectively organized ensemble for Latinx, Latin American, and allied David Geffen School of Drama members to unite expressions of Latinidad under one roof to uplift themselves, their art, and their communities in conocimiento.
Contact: chantal.rodriguez@yale.edu 
---
The Yale Divinity School
The Yale Divinity Latino/a Association (YDLA) Yale Divinity Latinx Association seeks to create a space for students, faculty, and staff that fosters fellowship, encouragement and partnership within the Latinx community at YDS. YDLA is composed of anyone who self identifies as Latinx or who has close ties and connections with the Latinx community either through scholarship, parish ministry, or personal interest. YDLA offers the Latinx community a space and opportunity to raise their concerns, interests, and to begin conversations that pertain a wide variety of Latinx issues. YDLA also provides its members an opportunity to share and represent their community, culture, and interests with the rest of the YDS community.
Contact: Jeanne.peloso@yale.edu; kit.heeley@yale.edu
---
The Yale School of the Environment
The Latin American Student Interest Group (LASIG) The Latin America SIG is a space for any YSE students that identify with the culture(s) of the region, are interested in the region and the issues it faces, or want to learn more about Latin America.
Contact: robert.javonillo@yale.edu; andres.fernandez@yale.edu; alyssa.pereira@yale.edu.
---
The Yale Graduate School of Arts and Sciences 
Office for Graduate Student Development and Diversity (OGSDD) The Office for Graduate Student Development and Diversity (OGSDD) is firmly committed to building a supportive community in which graduate students from underrepresented backgrounds are empowered in their intellectual pursuits and professional goals. OGSDD was established with the knowledge that diversity among graduate students enhances the life of the entire scholarly community at Yale. OGSDD and the Graduate School recognize that a diverse student body is essential if the academy is to remain an engaged and relevant institution within its contemporary society. This office provides both thematic programming and individual advising for students across the disciplines as they move through their degree programs at Yale; this in turn creates a supportive community as well as essential opportunities for academic growth. Prospective applicants and current students are equally encouraged to visit or contact the office to learn more about the resources and mentoring that it provides.
Contact: danica.fisher@yale.edu; claudia.schiavone@yale.edu
---
The Yale Law School
Latino Law Students Association (LLSA) LLSA is dedicated to facilitating growth, community-building, and professional and academic development for all our members. In service of these broad goals, LLSA designs programming intended to provide opportunities to meet Latinx practitioners, activists, members of public service, academics, and others; to connect with our alumni network; and to create a political and cultural footprint at Yale Law School. LLSA strives to cultivate a culture of inclusion to help build a community of scholars, practitioners, and agents of change. LLSA seeks, first and foremost, to construct a space of engagement and a platform from which our members may launch successful careers with impact.
Contact: osa@yale.edu ; juan.miramontes@yale.edu
---
The Yale School of Management
Latin Leadership Association (LLA) The goal of the Latino Leadership Association (LLA) at the Yale School of Management (SOM) is to promote Latinx leadership for business and society. LLA seeks to harvest potential synergies with external groups in an effort to benefit both its membership and other organizations: collaborating with the National Society of Hispanic MBAs, building stronger relationships with Hispanic SOM Alumni, networking with corporate recruiters who are interested in Latinx MBAs, and increasing communication with other Hispanic organizations both on and off campus to discuss common issues and models of success.
---
The Yale School of Public Health 
Emerging Majority Students Association (EMSA) The Emerging Majority Students Association (EMSA) is committed to creating and fostering a sense of community among minority/underrepresented students
Contact: mayur.desai@yale.edu ; leigh.roberts@yale.edu
---
The Yale School of Nursing
Minority Student Nurses (MSN) MSN provides support, guidance, and community for nursing students belonging to underrepresented and marginalized populations. MSN contributes to the enrichment of students through providing professional development opportunities for minority students, and giving voice to issues affecting the student body, faculty, and staff. In collaboration with other campus organizations, MSN aims to increase diversity and create safe spaces within the student body, as well as among faculty and staff.
Contact:erin.morelli@yale.edu ; ysn.studentlife@yale.edu
---
The Yale School of Medicine
Student National Medical Association/ Latino National Medical Association (SNMA/LMSA) The Yale SNMA/LMSA is committed to building a community for current and future underrepresented minority medical students at Yale, nurturing an environment at YSM that supports these students, fostering connections between Yale and underserved communities in the greater New Haven area, and growing consciousness around issues of social and health equity.
Website: https://www.yalesnmalmsa.com/