As of Fall 2020, merchandise sales are paused due to COVID19 regulations and the center being closed. Once we  determine the best method to process online orders, shipping, and safe pick-up options, we will update the community on our merchandise sales.
Thank you for supporting La Casa and our programmatic efforts!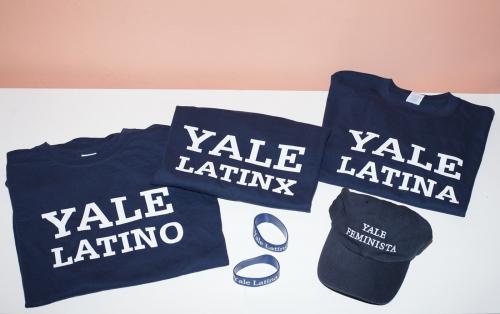 All proceeds from merchandise sales support La Casa's efforts for student development, support, and more.
Prices

Current Yale undergraduate, graduate, and professional students*

(Order & Pick up order at La Casa, no online option at this time)

Alumni/Non-students: no online option at this time

(Order and/or pick up order at La Casa; Shipping is only available for purchases of $10 or more and costs an additional 10% of the total cost)

"Yale Latina/o/x" Shirts

$15

$20

"Yale Feminista" Hat

$10

$15

"Yale Latina/o" Bracelets

$3

$5
*You can only order and purchase orders at La Casa at this time, there is no online option. Current students purchasing items for their non-students should order their merchandise through the "non-student" option so that the full proceeds go towards our efforts that directly benefit our current students. You can still pick up the order at La Casa.
If there are any questions about your order, please contact lacasa@yale.edu.
Update: Online orders are not possible at this time. We will update everyone if/when these become an available option, again. We apologize for the inconvenience.