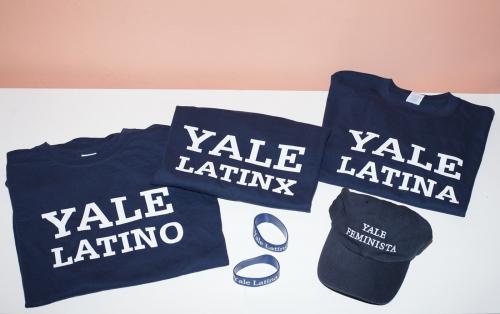 All proceeds from merchandise sales support La Casa's efforts for student development, support, and more.
Prices
 

Current Yale undergraduate, graduate, and professional students*

(Order & Pick up order at La Casa, no online option at this time)

Alumni/Non-students

(Order and/or pick up order at La Casa; Shipping is only available for purchases of $10 or more and costs an additional 10% of the total cost)

"Yale Latina/o/x" Shirts

$15

$20

"Yale Feminista" Hat

$10

$15

"Yale Latina/o" Bracelets

$3

$5
*Current students can only order and purchase orders at La Casa at this time. Current students purchasing items for their non-students should order their merchandise through the "non-student" option so that the full proceeds go towards our efforts that directly benefit our current students. You can still pick up the order at La Casa.
Processing & Pick-up/Delivery
Once our staff received confirmation of your payment, we will contact you to confirm your order and give you information on pick up or delivery.
Pick-up orders: Those who have selected "pick up at La Casa" option will be able to show their confirmation of payment email at La Casa to receive their merchandise.
 
Mailed orders: Orders must be a minimum of $10 and shipping costs an additional 10% of the total cost. 
If there are any questions about your order, please contact lacasa@yale.edu.
Non-students only: click this link to purchase our merchandise!